For project-hunting independent professionals, My Saved Searches is one of Marketplace's most useful features. This simple-to-use tactic saves time by automatically alerting you to new opportunities as they are posted — sending them straight to your inbox.
Even while you're sleeping.
To begin, search for a project in the search bar then click "Save your Search":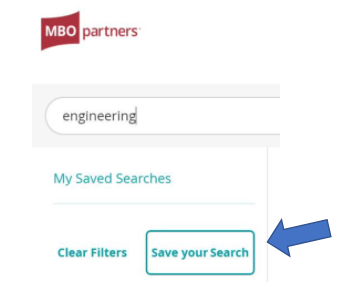 After you save a search, you will be prompted to name it and indicate if you would like to receive notifications (yes, you would) and how often. 
You can save as many searches as you like, so try different variations with different names and compare the results.
Ge
tting the Most out of your Search
There is an art to mastering Saved Searches. The more precise your filters, the more precise your results.
For example, if your saved search is for a general term like "UX" or "healthcare," you will receive a steady stream of alerts. This stream – potentially an outright avalanche – will likely include projects well outside your interests.
Before searching with terms such as "UX" or "healthcare", ask yourself: what kind of UX roles am I after? UX Design? UX Writing? UX Strategy? Ask yourself, what specific category (or categories) of healthcare opportunities make sense for your background? And at what level? What rate range?
Specificity is key to saved searches.
The more specific your search, the better your results
Once you've narrowed down what to search for, use the Filters feature to help finetune those results. You can filter your results by project dates, bill rate, location, and more.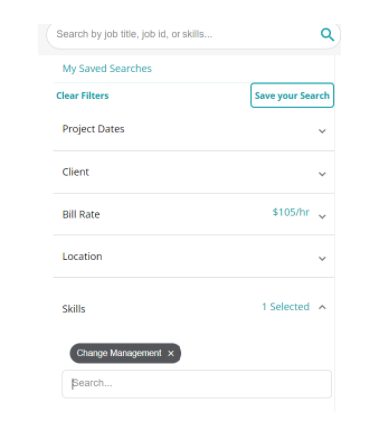 Be prepared to experiment and compare results as you go. Revisit and revise often. Eventually, you will lock into a rhythm that works for your needs and preferences.
And remember, the most critical variables are 1) what's available now and 2) what are you looking for. Since the former will change frequently, the latter should as well.
Need more hands-on help? That's the easiest search. Just reach out to our Support Team. We're always here to assist.